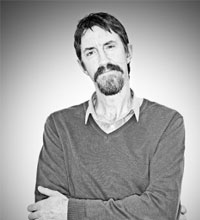 ADAM McILWAINE is a representative of EMAP co-organising partner, the Royal Conservatoire of Scotland. He is also directing the documentary film 'Blasts from the Past' for the project.
Originally trained as an editor, Adam has worked on numerous documentary projects in the broadcast and independent sector including the BAFTA nominated Little Criminals as producer and editor.
Adam now leads the BA Digital Film & Television programme as well as strategically looking at the use and implementation of technology across all disciplines in the Conservatoire. These include music, drama, film & TV, musical theatre, technical theatre and performance. He is heavily involved in curriculum development and has recently led the design of a very ambitious and progressive new degree programme.
a.mcilwaine [at] rcs.ac.uk