Dragon Voices: The Giant Celtic Horns of Ancient Europe – European Music Archaeology Project Volume 3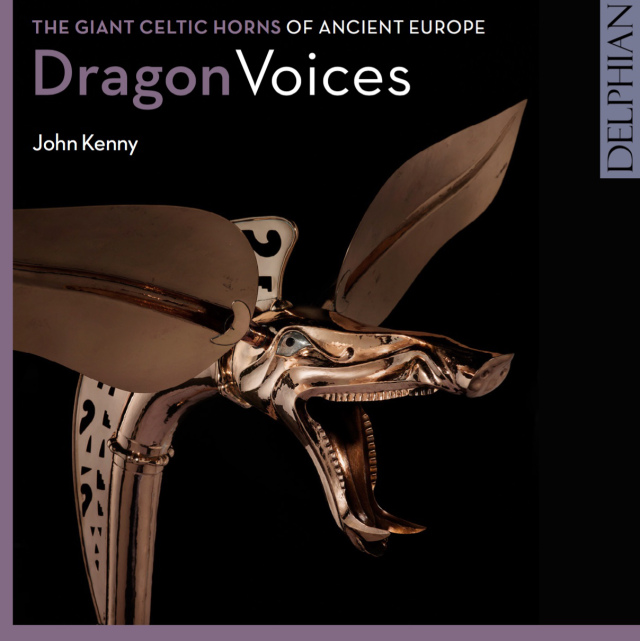 Volume 3 of EMAP's series of 5 albums of recordings, Dragon Voices, is now on sale, through record shops, at the EMAP exhibition and through online sources such as Amazon and iTunes. It features world expert Carnyx player John Kenny. The album, and the series, is a collaboration between the University of Huddersfield, Delphian Records and EMAP, with funding support coming from all three. Rupert Till came up with the idea of producing a series of albums, and he and Delphian Records have been instrumental in creating them.

Tintignac carnyx – by Jean Boisserie, commissioned by EMAP,
after a 1st-c. BC original found at Tintignac, Corrèze, France
You can watch a video about the album here:
John Kenny tells us, "as a participant in EMAP (the European Music Archaeology Project), it has been my privilege to help to bring to fruition the reconstruction of the magnificent Tintignac carnyx, and since autumn 2014 I have given performances and lecture recitals on it throughout Europe."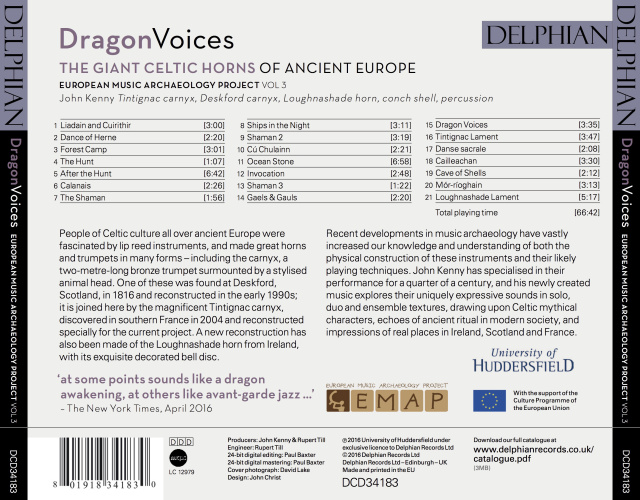 "Until 2004, fragments of only five carnyces had been preserved – from modern Scotland, France, Germany, Romania and Switzerland – but in November of that year archaeologists discovered a first-century BC deposit of seven more of these extraordinary instruments under a Gallo-Roman fanum at Tintignac, in the Corrèze region of southern France. Although all are ritually dismembered, one was almost complete. Six of these carnyces have boar's heads, but the seventh is a serpent-like fantasy beast."
"The find appears to represent a ritual deposit from soon after the Roman conquest of Gaul. The Tintignac finds enabled some fragments found at Trentino, in northern Italy, decades before to be identified in 2012 as being part of a carnyx. This 'Sanzeno carnyx' has also been reconstructed by the scholar and craftsman Alessandro Ervas. The Tintignac instrument was reconstructed by Jean Boisserie, based upon the research of a team of scientists in Toulouse led by the archaeologist Christophe Maniquet, and is made entirely of hand-hammered bronze. It is a vibrant, living musical instrument. This album represents the first CD recordings of my attempts to give the Tintignac carnyx a voice."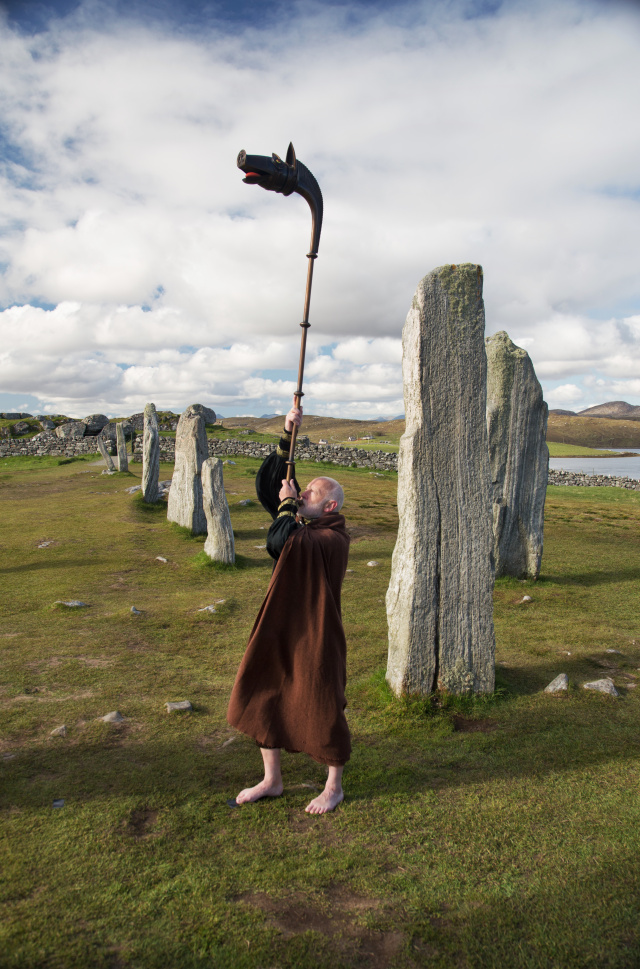 Deskford carnyx – by John Creed, after a 1st-c. BC to 1st-c. AD
original found in 1816 at Leitchestown, Deskford, Scotland
John is playing the instrument here at Calanais (or Callanish) in Scotland for a video shoot for the EMAP project.
All instruments on the album were played by John Kenny; multitracked in the University of Huddersfield recording studios.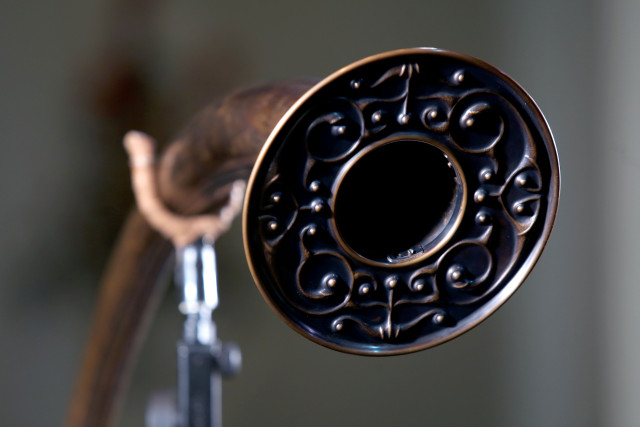 Loughnashade horn by John Creed, commissioned by EMAP
after a 1st-c. BC original found in 1794 in Co Armagh, Ireland
The European Music Archaeology Project (EMAP) is a five-year collaborative project funded by the EU Culture Programme. Aiming to explore our common European musical heritage by studying the music and sounds of the ancient past, the project involves the reconstruction of ancient instruments, a programme of lectures and musical performances, and the creation of an international touring exhibition.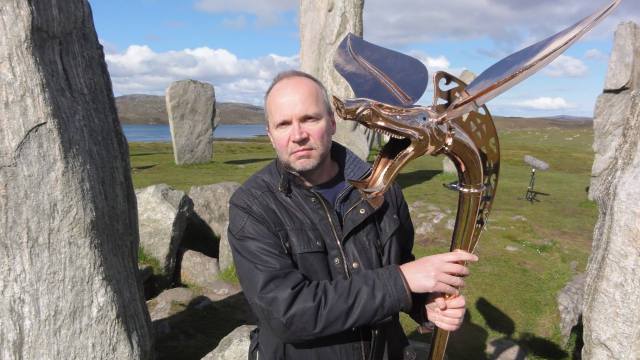 As a co-organising partner in the project, Dr Rupert Till and the University of Huddersfield are working with Delphian Records to create five CDs. Vols 1 & 2, released in mid-2016 (see overleaf), are followed by the present release and by The Edge of Time: Palaeolithic bone flutes from France and Germany (EMAP Vol4), with Anna Friederike Potengowski on bone flutes and Georg Wieland Wagner on percussion, in November 2016. A fifth and final volume – dedicated to ancient Greek and Roman instruments including the aulos, tibia, and water organ – is scheduled for 2017.
Recorded on 18-20 November 2015 in the University of Huddersfield Recording Studios. Producers: John Kenny & Rupert Till; Engineer: Rupert Till
24-bit digital editing: Paul Baxter 24-bit digital mastering: Paul Baxter
Cover image © David Lake
Design: John Christ & Drew Padrutt Booklet editor: John Fallas
Delphian Records Ltd – Edinburgh – UK

With the Support of the Culture Programme of the European Union