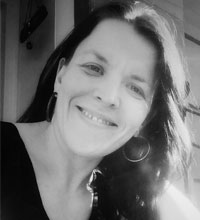 ABIGAIL HOWKINS is a representative of EMAP co-organising partner, the Royal Conservatoire of Scotland. Her role is to develop, direct and produce the Archaeomusica exhibition video content, video content for the Soundgate installation and to produce the documentary 'Blasts from the Past'.
Abigail has fifteen years experience working in screen media production, across short and feature drama and documentary films, broadcast television, corporate, web and content for exhibition and marketing.
She has won several awards for her work including Best Short Film (Wish, drama short) and Best New Producer (Running in Traffic, drama feature) at the BAFTA New Talent Awards. She also executive produced a number of short dramas and documentaries in her role as co-founder and director of BAFTA Scotland nominated company, Diversity Films, partnered on the BAFTA Scotland nominated We Are Northern Lights mass participation documentary feature and has taught numerous award-winning students production skills through the Screen department at the Royal Conservatoire of Scotland.
In 2014, she led a team of 25 videographers to tell the story of Glasgow 2014 through the eyes of Glasgow Life and its partners, covering various aspects of Culture 2014, Festival 2014, Host City Volunteers and the Queen's Baton Relay.