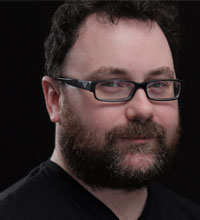 RAY TALLAN has over 10 years experience in Screen, working on various projects such as Music Promos, Broadcast, Documentaries and Short Form Drama. Ray has been in charge of the Camera Department at the Royal Conservatoire of Scotland for the past four years overseeing cinematography training.
Ray also continues his freelance work working with a number of renowned professionals including choreographer and dancer Clare Cunningham, sing Sharleen Spiteri, writer Mark Millar and Academy Award nominee, cinematographer Seamus McGarvey to name a few.
As full-time Lecturer in Cinematography, Ray's role on the European Music Archaeology Project is Cinematographer for the 'Blasts from the Past' documentary and 'Archaeomusica' exhibition video content and mentor for the Digital Film and Television camera and lighting students involved in the project.